UMD votes to change name of Byrd Stadium | News
COLLEGE PARK, Md. (WUSA9) -- The University of Maryland voted to change the name of Byrd Stadium to Maryland Stadium on Friday. 
In a packed room Friday morning, by a vote of 12 to 5, the Board of Regents made history with the vote to change the name. 
Citing a tenure associated with racial segregation, University of Maryland President Wallace Loh voiced his support to rename the school's football stadium currently named after former university president Harry Clifton "Curley" Byrd.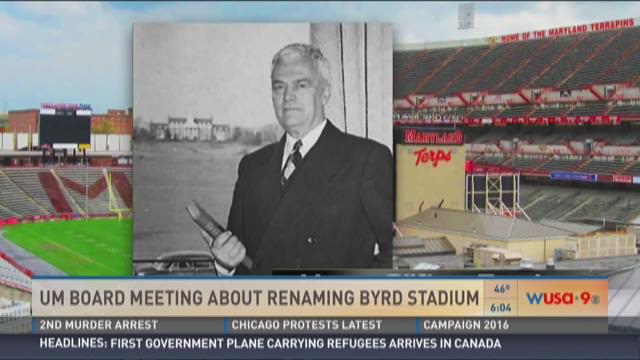 In a letter to the University System of Maryland Board of Regents, Loh wrote that the name of Byrd Stadium is a reminder to the school's African-American community of a time when "they were unwelcome on this campus."
FULL LETTER:
Read the full letter. 
Critics of a name change cited Byrd's role in shaping the university into what it is today as a reason to keep the stadium name, something Loh acknowledges in his letter. As part of his recommendation, Loh proposed creating an exhibit inside a university library that recognizes his contribution to the university. 
In the fall, Loh commissioned a group of students, faculty, staff, administrators and other university representatives to discuss the idea of a name change. According to Loh, the group submitted two reports but did not make a recommendation on the subject, per his request.   
As part of his recommendation, Loh also proposed a five-year moratorium on renaming buildings named after historic figures and calls for the university to have a dialogue to bring about institution improvements. 
Like this story? Like WUSA9 on Facebook. 
PREVIOUS STORIES:
Group to consider possible name change for Byrd Stadium
UMD student government wants to rename Byrd stadium